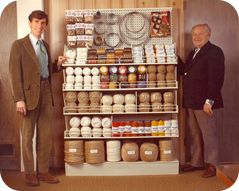 In 1947, Norman Librett established himself as a wholesale distributor of unique cordage and twine products. As he traveled the world he brought back various types of twines and sash cords. In 1978, Norman passed away and left the business to his son Michael.
Michael continued in his father's footsteps of carrying on his entrepreneur spirit. He traveled to many different countries and formed many long lasting friendships and good business relations.
During Michael's tenure he grew and expanded the business to become one of the premiere distributors, not only in cordage products but also floor fashions, gloves and tarpaulins based on the east coast. In the year 2000, Michael's most creative and thoughtful of ideas came to him.
The plan that he followed through to fruition was that of an employee stock ownership plan. He wanted his legacy to be remembered before his passing and that was to leave his beloved business to his most loyal staff of employees. Michael was very proud of what he had accomplished through the years and in late November 2008, Michael passed away.
Even though he may not be here in person, his spirit lives on in all facets of his business and our lives.
Librett Durables is responding to today's consumers needs by offering the finest and most comprehensive selection of high quality indoor and outdoor floor fashions.
We are an innovative company continually developing and looking for unique products to offer our customers.
Many of our mats, rugs, and floor coverings were designed and developed by our company, they are also 100% biodegradable and handmade by highly trained craftsmen.
We always welcome custom size and special orders from our in-depth inventory.
We are proud of all our products and that is why they are all unconditionally guaranteed!
We welcome your inquiries…